Today, there is an increasingly urgent need for individuals to a take a greater level of responsibility for their health and well-being. Spiraling healthcare costs have made it nearly impossible for an average family to pay for basic healthcare. Companies are struggling to pay their employees' health benefits, and the federal government has no answers. We are on our own.
And we can't look to help from our doctor. Over 2000 years ago Hippocrates, the father of western medicine, stated that the primary role of the physician is educator, but health professionals in the fast-paced 21st century have no time to devote to educating their patients on how to live a healthy lifestyle.
At the same time, today there is a parallel trend of people looking for more personalized approaches to wellness. People want to go beyond the cold, by-the-numbers approaches of conventional medicine and be viewed as a "whole person" — addressing the physical, emotional, mental, and spiritual dimensions of our lives.
These two trends are nothing new as they represent two of the key principles—"Self-Responsibility" and "Treating the Whole Person"—that were hallmarks of the wellness and holistic health movements of the 1970s. A quarter-century later, these principles, once dismissed by conventional healthcare as being too progressive, are now being viewed as essential core elements to solving the current healthcare crisis.
Teaching People to Be Well
Over thirty years ago a young resident at Johns Hopkins had a flash of inspiration that would come to have a major impact on these two challenges facing us today. This young doctor, John W. Travis, MD, MPH, had been working in the U.S. Public Health Service where he was a protégé of Dr. Lewis Robbins, the creator of the Health Risk Appraisal (HRA). He had also been influenced by Dr. Abraham Maslow's concept of self-actualization. Late one night in his office he envisioned the idea for the Illness-Wellness Continuum (see below), that placed "wellness" in a revolutionary new context which bridged health and human potential.
Dr. Travis decided to dedicate his life to "teaching people to be well," rather than treating patients, and so he subsequently left for California where he helped to pioneer the modern wellness movement—opening the first wellness center in America in 1975, writing the classic Wellness Workbook, and creating the first wellness assessment, the Wellness Inventory, to serve the needs of his new wellness-oriented clients.
"Wellness is a way of life…a lifestyle you design to achieve your highest potential for well-being."  – John W. Travis, M.D., M.P.H.
However, most pioneers are ahead of their time, and by the 1980s the wellness concept was catching on in corporate America and moving farther and farther away from a whole person focus. Then, wellness was associated with weight loss, stress reduction, and smoking cessation programs as well as medical screenings and health risk appraisals. This continued for 25 years until the current health care crisis forced consumers, corporate executives, the health care industry, and the Federal government to look for new and innovative solutions. Dr. Travis' original Illness-Wellness Continuum, developed originally in 1972, has been widely reprinted in health and medical textbooks worldwide for over 30 years.
The continuum shows the relationship of the Wellness and Treatment Paradigms. Moving from the center to the left shows a deteriorating state of health. Moving to the right of center indicates increasing levels of health and well-being. The Treatment Paradigm can only take you to the neutral point, where the symptoms of disease have been alleviated. That is all it is designed to do. The Wellness Paradigm, on the other hand, which can be utilized at any point on the continuum, helps you move toward higher levels of wellness.
The Wellness Inventory—A Whole-Person Wellness Program
Today, we have come full circle. E-health pioneer HealthWorld Online (www.healthy.net) and Dr. Travis have collaborated to create a greatly enhanced online version of the Wellness Inventory to meet our society's current wellness needs. The Wellness Inventory is an interactive, whole-person wellness program designed to help individuals gain personal insight into their state of physical, emotional, and spiritual
wellness and to take more responsibility for their personal health and wellness. The program revolves around assessment in the 12 dimensions of wellness in Dr. Travis' Wellness Energy System (see diagram B). The assessment is educational in nature and helps to create awareness of how one's lifestyle, attitudes and behavior influence one's state of health and well-being.
The program focuses on the areas of your life you are most motivated to change (as revealed in the assessment) offering guidance, tools and resources to transform this new awareness into lasting changes in one's life, including a renewed sense of health and well-being.
Individuals can purchase a Wellness Inventory subscription at http://www.BodyMindSpirit.com. The program may also be licensed for use in organizational settings.
12 Dimensions of Wellness—The Wellness Energy System
The Wellness Energy System, conceived by John W. Travis, MD, MPH, represents a whole-person approach to wellness. The system has twelve components. three are the major sources of energy input: eating, breathing, and sensing; and nine are forms of energy output: self-responsibility and love, moving, feeling, communicating, thinking, intimacy and sex, working and playing, finding meaning, and transcending.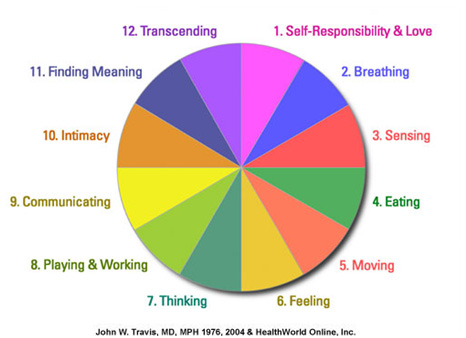 A Flexible Wellness Solution
The Wellness Inventory offers maximum flexibility for implementation in a wide range of settings, including corporate wellness programs, hospitals, spas, health practitioners, life coaches, government agencies, and churches. Reporting, coaching and communication tools for licensing organizations facilitate individual and group needs assessment, one-on-one coaching, increased levels of participation in a wellness program, and ongoing wellness education. For health professionals, the Wellness Inventory is an effective tool for "teaching their patients to be well" and for laying the foundation for a broader wellness program that integrates their own key areas of specialization. For life coaches, it is an invaluable tool to help determine a client's readiness or change and to aid in the coaching process to keep them motivated to reach their goals. For spas, the Wellness Inventory may be central to a year-round guest engagement program.
"The Wellness Inventory is a powerful tool for 21st century integrative medicine." – Larry Dossey. M.D.
For companies or organizations, the Wellness Inventory may be utilized as the centerpiece of a custom wellness solution. Optional wellness program components that may be built around the Wellness Inventory include wellness coaching, monthly workshops, wellness e-newsletters, and specific modules such as resiliency training, nutrition, or a walking program.
For a personal or organizational wellness initiative to have its greatest chance of success in the 21st century, it is important to have a strong focus on self-responsibility, personal and collective readiness to change, and a personalized, whole-person perspective.
Go on a Year-Long Personal Wellness Journey
The Wellness Inventory (www.WellPeople.com) takes you on a year-long wellness journey. The program is described in the following 5 steps:
Step 1—Assessment: Complete a lifestyle assessment covering 12 dimensions of whole-person wellness. The assessment is educational in nature and helps to create awareness of how one's lifestyle, attitudes and behavior influence health and well-being.
Step 2—Wellness Scores: You will receive Wellness and Satisfaction Scores for each of the 12 dimensions of wellness. You will also learn your areas of strength as well as the areas you are most motivated to change.
Step 3—Personal Wellness Plan: Create a personal wellness action plan comprised of 3-5 wellness action steps in the key areas you are most motivated to change. As you progress on your wellness journey, you may edit and update your wellness plan.
Step 4: Tools to Help You Reach Your Wellness Goals: Utilize a suite of tools to help you successfully complete your action steps and meet your goals including email reminders, a SMART Step Virtual Coach feature, My Wellness Journal to record your insights and progress, and a Study Center to access wellness commentaries on the 12 dimensions.
Step 5—Resources for Ongoing Wellness: Access resources and services, including recommended reading and educational audio programs to help you learn to maintain a higher state of well-being and vitality.
Wellness Coaching: Coaching can greatly accelerate this 5-step process by providing the accountability that increases your chances for success in meeting your goals.
Custom Workplace Wellness Program
Here is an outline of a potential workplace wellness program utilizing the Wellness Inventory:
1. Individual Employee Assessment: Administer Wellness Inventory to employees at beginning of wellness program.
2. Wellness Coaching: Offer wellness coaching to help employees who need assistance and motivation in formulating their personalized wellness action plan. Optional: additional
coaching for at-risk employees and management.
3. Monthly Wellness Workshops: Ongoing employee education and motivation through a monthly workshop series covering the 12 dimensions of lifestyle in the Wellness Inventory.
4. Wellness e-newsletter: Sent through the e-mail broadcast feature.
5. Company-Wide Needs Assessment: Use the group reporting feature to determine the company-wide wellness needs and to design program modules to address the needs. Alternatively, specific modules may be designed into the overall wellness program from the outset (walking program, resiliency training, etc.) based on perceived needs.
For licensing inquiries, contact jim@healthy.net or 530-615-4555
James Strohecker, a pioneer in e-health, is CEO and cofounder of HealthWorld Online (www.healthy.net), the first online network focused on wellness, self-care and integrative health. Co-creator of the online Wellness Inventory program, he was Executive editor of Alternative Medicine: The Definitive Guide, (1st Ed), and is co-author of 4 books including Natural Healing for Depression. He is on the advisory board of totalhealth.